Black Pepper Linguine
Literally meaning "little tongues" in Italian, this classic noodle goes great with any medium bodied sauce.
---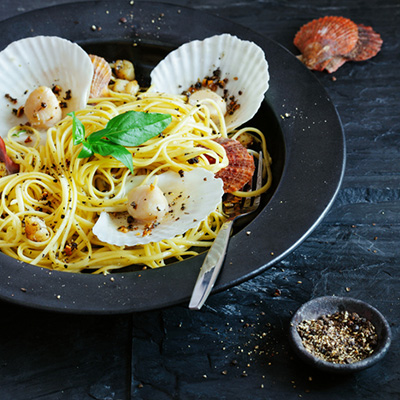 HOW TO COOK
Prepare a pot of boiling water. We recommend 5L of water per 450 gram package of Canmore Pasta Co's Fresh Pasta. With your hands, gently loosen the bundle of pasta. When water is at a rolling boiling, carefully place the loosened bundle of pasta into the water. Stir immediately to prevent the pasta from sticking together. Boil with lid removed for 2-3 minutes or until preferred al' dente texture. Pasta must be immediately tossed with a little sauce, oil, or butter to prevent sticking. Top with sauce as desired and serve.
INGREDIENTS
Semolina (durum wheat, niacin, iron, thiamine, mononitrate, riboflavin, folic acid), fresh whole egg, fresh spinach, water
RECIPES